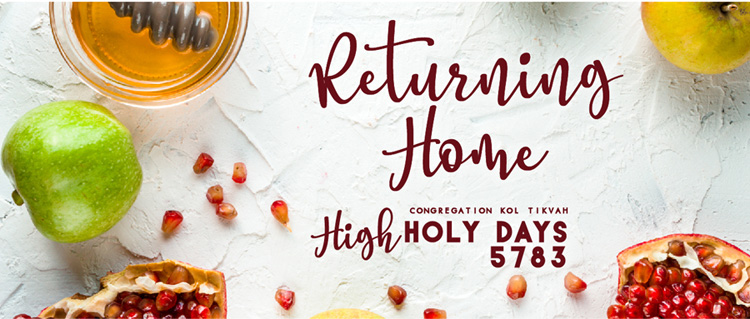 SHANAH TOVAH! Welcome to Congregation Kol Tikvah's High Holy Days 5783. We are so excited to celebrate with you, either virtually or in person.
Are you READY for the New year?

We are delighted to be able to provide services both in person as well as via live-stream this year. We are looking forward to welcoming back our congregational family and starting a joyful year together.

There are so many questions in everyone's mind about what will be different and what will stay the same. We seek to answer your questions here. If there is anything else not addressed here, please call our staff. They are happy to help.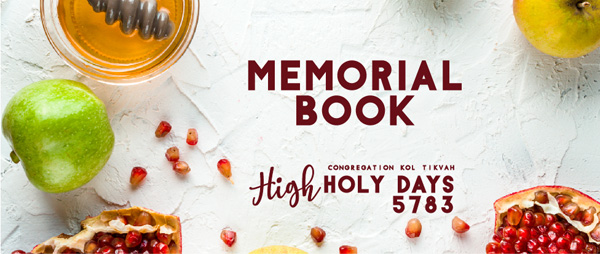 As the High Holy Days approach, we are reminded to cherish the living and to remember those who have passed from life. Congregation Kol Tikvah's Memorial Book has become the medium by which members of our Congregation and relatives of former members honor those loved ones who have passed away. If you would like to be a part of our Memorial Book please fill out the form and return to our office. The Book is distributed at the Yizkor Service on Yom Kippur. If you will not be at that Service and would like a copy of the book, please call the Temple office and we will put one aside for you.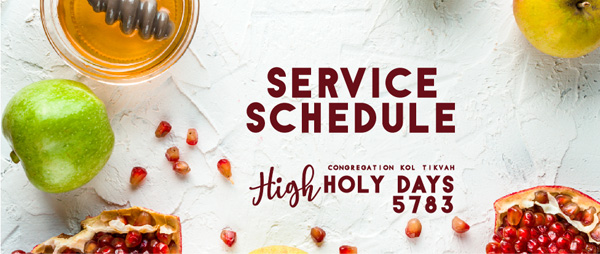 ROSH HASHANAH
EREV ROSH HASHANAH—September 25
7:30PM Erev Rosh Hashanah Service (Sanctuary)
ROSH HASHANAH DAY ONE—September 26
8:45AM Rosh Hashanah Family Service (Weather permitting. PLEASE BRING YOUR OWN CHAIRS–(Parking Lot)
11:00AM Rosh Hashanah Morning Service (Sanctuary)
11:00AM Rosh Hashanah Children's Program
ROSH HASHANAH DAY TWO— September 27
10:00AM Rosh Hashanah Morning Service and Tashlich (Sanctuary)
YOM KIPPUR
EREV YOM KIPPUR —October 4
7:30PM Kol Nidre Service (Sanctuary)
YOM KIPPUR DAY—October 5
8:45AM Yom Kippur Family Service (Weather permitting. PLEASE BRING YOUR OWN CHAIRS) –(Parking Lot)

11:00AM Yom Kippur Morning Service
11:00AM Yom Kippur Children's Program
2:00PM Q&A with Rabbi Boxman
2:45PM Voices of Kol Tikvah
3:45PM Yom Kippur Afternoon Service
5:00PM Yizkor Service
6:00PM Neilah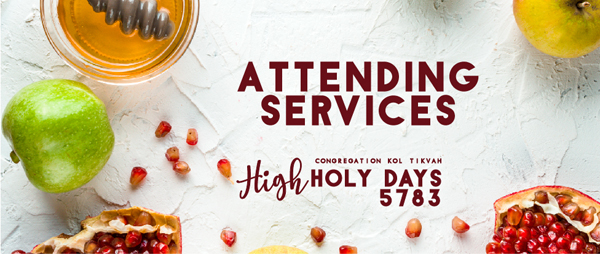 MEMBER TICKETS

Tickets for High Holy Day services are complimentary with our Kol Tikvah Pillar and Sustainer levels for all members listed on your account. For those who select the Supporter level there will be an additional $90 per person per ticket. Tickets will be available for pick up at Will Call before each service.
GUEST TICKETS

We welcome your family and friends to our High Holy Day services! Please download our Guest Ticket form for any additional tickets you may need.

We will honor requests for reciprocal tickets from other congregations.  Please contact Lali Karni, our Finance Director at 954.346.7878.

SEATING

Seating is available on a first come first served basis.  To accommodate everyone, we ask that you refrain from saving rows for your family and friends. If you wish to ensure a seat in the sanctuary pews, please arrive early for morning services.  Doors open one hour prior to the start of services.
 
VIRTUAL SERVICES

Those not attending in person will be able to enjoy the worship experience in the comfort of their home or wherever they may be via livestream on our website. Access is free and open to the public.

Members may borrow prayerbooks so that they can follow along with the service. Please contact the office to arrange for a copy.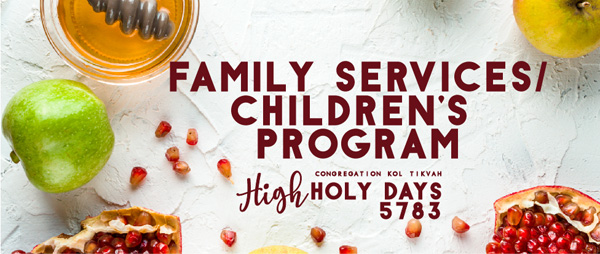 Family Services will be held outside (if inclement weather we will be indoors) on Rosh Hashanah Morning, September 26 at 8:45 a.m.-9:30 a.m. and Yom Kippur Morning, Wednesday, October 5 at 8:45 a.m.-9:30 a.m.  Please bring your own chair or blanket. Children's Services will be available for both Rosh Hashanah and Yom Kippur.

PLEASE NOTE: There will be no babysitting services available this year.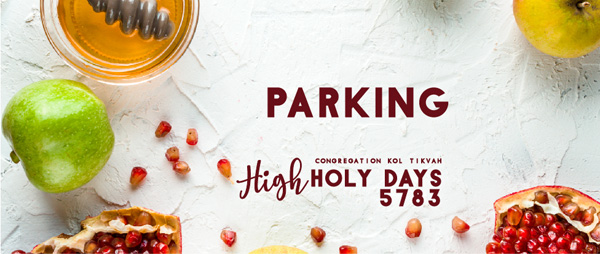 Overflow PARKING will be available in the Coastal Community Church parking lot just north of the synagogue. Access to that property is directly off of University Drive. Valet attendants will advise you when the Kol Tikvah lot is full. In that instance, you may drop off your passengers under the portico before proceeding to the Church lot. Please do not park in the Municipal Lot to our South during normal work day business hours.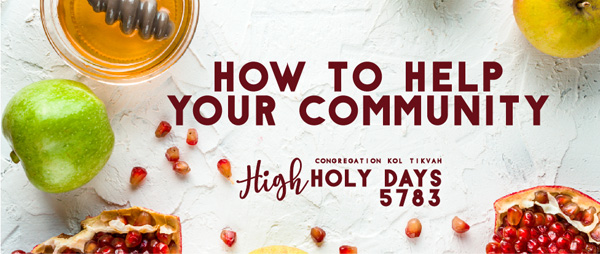 Our Social Action Committee will be spearheading our annual High Holy Day Food Drive to benefit the WeCare Food Pantry at the Soref JCC. Please fill a bag with nonperishable food (NO glass), toiletries, personal hygiene products, baby food, formula, and diapers. Bags can be dropped off in front of the Sanctuary doors starting on Sunday, September 12 or brought with you to services on Yom Kippur.

SUPPORT KOL TIKVAH
Today more than ever we rely on you to support our educational, community, and spiritual programs. Show your appreciation and support of Kol Tikvah and this unique High Holy Day Experience by donating now to our Kol Nidre Appeal.