At Kol Tikvah, Education & Youth Engagement is a top priority. That's why we have our EYE on the Future!
The Education & Youth Engagement program at Congregation Kol Tikvah offers education for Kindergarten through 12th Grade. Confirmation takes place during a student's 10th Grade year. Our program's most underlying approach is for the children to build meaningful relationships, deep connection to our community and to enjoy the time spent at Kol Tikvah so that they are left with positive feelings and fond memories of their Jewish education. Therefore, our program is carefully blended with music, games, incentives, arts and crafts, dramatics, family programming and other exciting activities.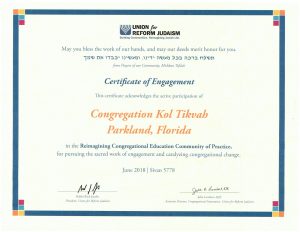 The Goals of our Program:
Attain a strong feeling of identity with our Jewish heritage and to develop a sense of love and pride in being Jewish. Gain knowledge and understanding of the Mitzvot, traditions and rituals for which Judaism stands, study the morals, values and ethics which the Torah teaches, develop an appreciation of, and experience a hands-on approach to all holidays. Allow students to express their opinions and questions about God, Torah and religion. To understand the importance and relevance of Torah in today's times. Discover and explore the incredible history of the Jewish people and its relevance for all times. Develop the ability to understand basic Hebrew words and gradually master the skills of Hebrew reading, emphasizing prayers so the students feel comfortable when attending services. Identify with Israel as the Jewish State, and develop an interest in issues relating to Israel and its inhabitants. Attain a "Jewish" perspective on life by maintaining Jewish feelings and involvement beyond the years in Religious School and, ultimately perpetuate this into future generations.
"Get Yourself a Teacher; Find Yourself a Friend to Study With…"
Mishnah Avot 1:6
Welcome to a new season of learning at Congregation Kol Tikvah, where we offer a warm and lively Jewish atmosphere for your children to attain a unique and exciting awareness of their Jewish identity. A child equipped with a Jewish education and a feeling for Judaism's beautiful teachings, traditions and historical lessons is a child better equipped to face the awesome moral challenges of today's society.
We encourage you, as a parent, to get involved, ask questions and keep in touch with our staff. You may very well discover that your child's experience at Congregation Kol Tikvah will add an enriching spiritual dimension to the lives of your entire family.