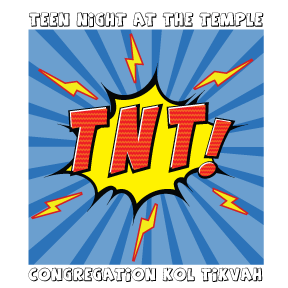 TNT, or Teen Night at Temple, is our 7th through 12th grade program that meets on Monday nights.  We offer a variety of programming ranging in themes and topics.  Students join us at 5:30 for dinner and then at 6:00 pm begin their first elective rotation.  Electives include yoga, Holocaust study, iron chef Jewish style, leadership development, madrichim training, hot topics, mitzvah day planning and so much more!  At 7:00 pm our high school students join PARTY, youth group, programming and our middle school students continue in the elective rotations.
For further information contact Rabbi Melissa Stollman, Director of Lifelong Learning.
Learn more about Confirmation for our 10th graders.

Learn more about Dual Enrollment for our 10th, 11th and 12th graders.

Register for the second mini-mester of classes here.