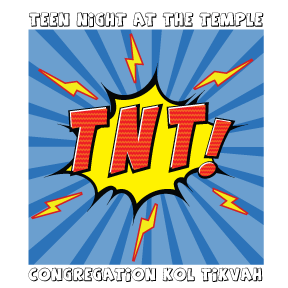 TNT, or Teen Night at Temple, is our 7th through 12th grade program that meets on Monday nights.  We offer a variety of programming ranging in themes and topics.  Students join us at 5:30 for dinner and then at 6:00 pm begin their first elective rotation.  Electives include yoga, Holocaust study, iron chef Jewish style, ga-ga, leadership development, madrichim training, hot topics, mitzvah day planning and so much more!  At 7:00 pm our high school students join PARTY, youth group, programming and our middle school students continue in the elective rotations.
For further information contact Rabbi Melissa Stollman, Director of Lifelong Learning.
Confirmation

Our 10th Grade Confirmation Class meets in the spring semester with Rabbi Boxman and explores topics including:  Who is a Jew?; What Does it Mean to Pray?;  What's Up with God? ; Why Israel Matters to Us as American Jews; and The Differences and Similarities between Judaism and Christianity.  The second half of the year is dedicated to writing and preparing for our Confirmation Service.  The Confirmation Class also travels to New York City for our annual Confirmation Trip in January with Rabbi Boxman, Rabbi Stollman and Lital Donner.
Dual Enrollment

10th, 11th and 12th grade students are eligible to participate in our Dual Enrollment class offered through Broward College.
One class is offered each semester per year with four classes covered over a two-year period.
JST1500 Survey of Jewish Culture Credit Hours: 3 (Fall 2018)
An examination of Jewish thought, Diaspora history, traditions and rituals, challenges to Jewish families and communities, and Jewish responses to the modern world.
JST2815 History of Modern Israel Credit Hours: 3 (Spring 2019)
This course will begin with the period of the Enlightenment for the Jewish people and will follow the historical development which led to the development of the State of Israel.
JST2400 Survey of Jewish Civilization Credit Hours: 3 (Fall 2017)
A survey of the history of Jewish civilization beginning with the origins of the Hebrews, through early Christianity and the Renaissance, to the State of Israel.
JST1700 The Holocaust Credit Hours: 3 (Spring 2018)
The historical, political, literary, religious, and philosophical dimensions of the Holocaust.
Evaluation used, but not limited to, short-essay, group projects, discussions, multiple-choice tests, quizzes, take-home exams, summaries, critiques, reaction papers, surveys, short-answer exams, classroom debates, presentations, and blogs.
For more information about how to register visit http://www.broward.edu/academics/cpl/dual