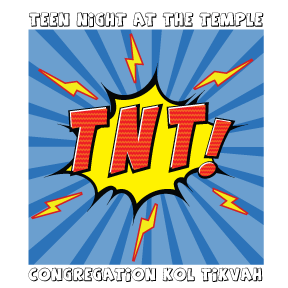 TNT, or Teen Night at Temple, is our 7th through 12th grade program that meets on Monday nights.  We offer a variety of programming ranging in themes and topics.  Students join us at 5:30 for dinner and then at 6:00 pm begin their first elective rotation.  Electives include yoga, Holocaust study, iron chef Jewish style, ga-ga, leadership development, madrichim training, hot topics, mitzvah day planning and so much more!  At 7:00 pm our high school students join PARTY, youth group, programming and our middle school students continue in the elective rotations.
We also offer specialized tracks for Confirmation (10th grade) and Dual Enrollment (11th and 12th grades).  See below for our schedule and more information.
For further information contact Rabbi Melissa Stollman, Director of Lifelong Learning.
10th Grade
Our 10th Grade Confirmation Class with Rabbi Boxman will explore and discuss topics including:  Who is a Jew?  What Does it Mean to Pray?  What's Up with God?  Why Israel Matters to Us as American Jews, and The Differences and Similarities between Judaism and Christianity.  The second half of the year is dedicated to writing and preparing for our Confirmation Service.  The Confirmation Class will also travel to New York City for our annual Confirmation Trip with Lauren Oback and Rabbi Boxman.
11th and 12th Grade
Our Post Confirmation students, 11th and 12th graders, will participate in our Dual Enrollment class under the auspices of Broward College.  Students will commit to learning for high school and college credit every Monday.  The fall course (from the Broward College Catalogue for Jewish Studies) is JST1500 Survey of Jewish Culture.  It surveys Jewish Culture development through a study of the concepts, values, traditions, and rituals of Judaism. The spring course is JST2815 History of Modern Israel. It begins with the period of Jewish Enlightenment and the history leading to the development of the State of Israel.