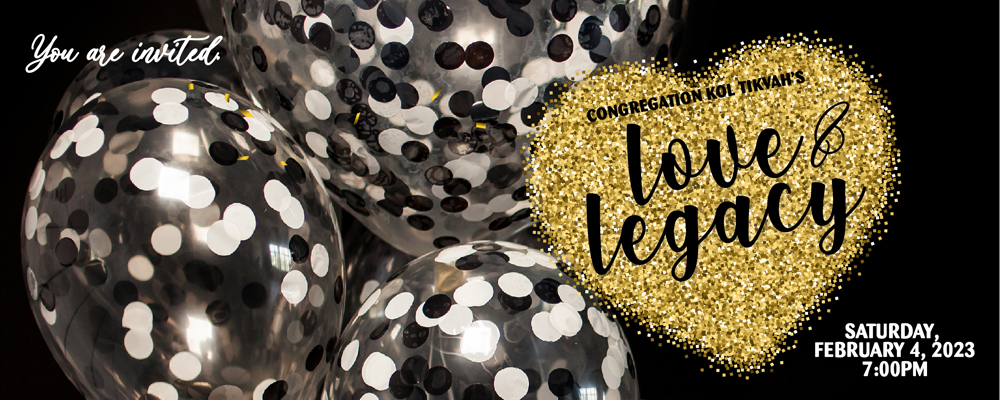 There is no better time to show your love and support for Congregation Kol Tikvah and the Phylis J. Green Early Childhood Center then at our upcoming Signature Event…LOVE AND LEGACY on Saturday, February 4, 2023 at 7:00PM.
This night will be filled with not only love and nostalgia as we celebrate and honor the Phylis J. Green's Early Childhood Center's 20th Anniversary but for Congregation Kol Tikvah's 2022-23 Stephen B. Zafir President's Award winner, DAVID HIRSCH. He is being celebrated for his unselfish dedication and service throughout the years at Congregation Kol Tikvah. Mazel tov to you David!

Dress up in your best Saturday Night Chic as the ballroom at Kol Tikvah transforms into a glamorous party space. The food menu is a whimsical yet recognizable and delicious assortment of crowd-pleasing favorites, catered by Cook and the Cork. There will be a cocktail hour with an open bar, plentiful passed hors d'oeuvres, interactive sushi and Japanese bar followed up by a sumptuous buffet and enticing desserts. The open bar and vodka slide will continue through the night to be paired with dancing, casino tables or both. We hope you win the auction item of your dreams!! And please don't forget the Photo Booth with your friends to capture your memories of the evening.
Time is running out for the Early Bird Discount to celebrate Love and Legacy: Honoring 20th Year Celebration of the ECC and our Stephen B. Zafir Award Winner David Hirsch. Deadline for discount is January 15th!
Sounds like a perfect night — how do you join in on all the fun? Tickets are available NOW. Want to honor and acknowledge the Phylis J. Green ECC's 20th Anniversary or your favorite teacher? Perhaps wish a mazel tov to our Zafir Award Winner David Hirsh? Sponsorships are available NOW!

CHECK OUT OUR AMAZING SPONSORS HERE

Whether you are coming to honor the school, the teachers, the Zafir Award winner, or just to show your love and support for Congregation Kol Tikvah, you will be assured one incredible evening! We can't wait to celebrate with you!